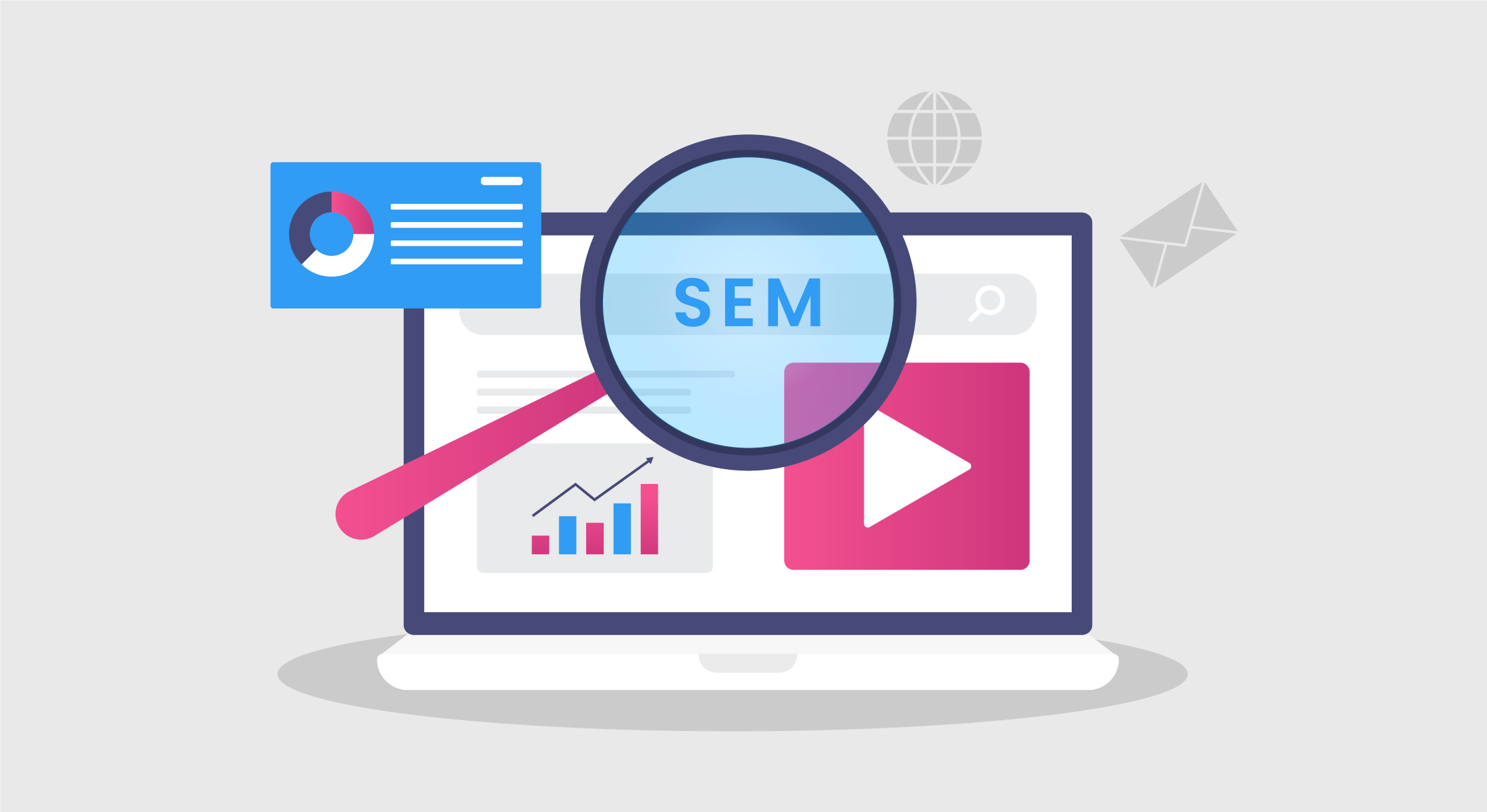 February, ​27, ​2023
6 min read
How to Choose the Right Search Engine Marketing Firm in Chicago
If you run a business in Chicago, you probably already know how important it is to have a good presence on the internet. And search engine marketing (SEM) is one of the best ways to get that presence out there. The goal of search engine marketing (SEM) is to have your website appear at the top of search engine results pages (SERPs) for the keywords that potential clients use to look for the goods and services you provide. But if you lack SEM expertise, a seasoned SEO firm may be required. Here are some tips for picking the best SEM services provider in Chicago.

Search for expertise
Experience is crucial when selecting an SEM firm. Working with a company that has a track record of success in assisting companies just like yours to increase their internet visibility is what you want to do. An agency with a lot of experience will be able to help you navigate the ever-changing world of search engine algorithms and will know how to use SEM methods that work.

Consider looking at a potential SEM agency's history and portfolio when conducting your investigation. Search for firms that have been around for a while and have experience working with a wide range of clients in various industries. By doing this, you can be sure that they have the right knowledge and skills to help you reach your online marketing goals.

Think about their services
When looking for an SEM agency in Chicago, it's important to think about what services they offer. One area of SEM that some organizations may specialize in is keyword research, while others may provide the whole spectrum of services. Make sure the company you choose can give you the services you need to reach your online marketing goals.

If you're not sure what services you need, look for a company that offers an SEM audit. This will give you a road map for improving your online presence and help you discover the parts of your website that need development.
Examine their Work
Before you hire an SEM agency, look at their portfolio to see what kind of work they have done in the past. Request case studies that demonstrate how well their campaigns performed for clients in your industry. This will help you better understand what to expect from working with them.

Consider the kinds of companies an agency has worked with while analyzing its portfolio. An agency will be better able to create a customized SEM plan that suits your unique objectives if they have expertise working with firms like yours.
Browse testimonials and reviews
Reviews and recommendations are a terrific way to find out more about the standing and caliber of an SEM firm's work. Check for testimonials on the agency's website and on review sites like Google, Yelp, and Facebook. To acquire a complete picture of working with the agency, pay attention to any recurring themes, both positive and negative.
It's important to remember that no agency is flawless when analyzing reviews and recommendations. Look for a company with mostly positive reviews, but don't let a few bad ones turn you off. Instead, focus on how the organization handles unfavorable reviews. Do they accept responsibility for their errors and make an effort to fix the problem? This may be a reliable sign of their dedication to providing excellent customer service.

Ask Concerning Reporting
When you spend money on SEM services, you want to be able to monitor your development and evaluate your investment. Find out how the SEM company you are considering will report on the effectiveness of your campaigns. Will they offer recurring information on visitors, ROI, and sales (CPM and CPC)? Will you be able to use analytics software to keep track of your own progress? To keep track of the effectiveness of your online marketing, ensure the firm you hire has a clear and open reporting process.

Seek out local expertise
When looking for an SEM agency in Chicago, it's important to find one with experience in the area. So, they will know everything there is to know about the local market and the unique opportunities and problems that come with doing business in Chicago.

Choose a company that has experience working with Chicago-area companies and a proven track record of success there. They will be better able to make an SEM plan that is tailored to your needs and takes into account the unique aspects of the Chicago market.

Think about cooperation and communication
Effective communication is essential when working with an SEM agency. You want to work with a company that is easy to get in touch with and listens to your needs and questions. Find an agency that gives you regular updates on your projects and has clear rules about how to talk to them.
You should also think about how the agency works with its clients. Do they work with you to make and run your campaigns, or do they do it on their own? Look for a company that is willing to work with you and wants to help you reach your internet marketing goals.
Inquire About Prices
Furthermore, price should be taken into account while selecting an SEM service in Chicago. It's critical to have a clear grasp of what you'll be getting for your money and how much SEM services will cost. Choose a company that tells you its prices up front and is willing to work with you to come up with a pricing plan that fits your budget.
Remember that while price is essential, it shouldn't be your only consideration. Instead, seek out a company that offers value for the services it offers and has a history of success in assisting companies like yours to reach their internet marketing objectives.

Conclusion
In conclusion, there are a number of things to take into account while selecting the best search engine marketing company in Chicago. Choose an agency that has experience, a wide range of services, a solid portfolio, good reviews and recommendations, a clear reporting process, local knowledge, good communication and teamwork, clear pricing, and a commitment to their clients' success.
For companies in the Chicago area seeking the best SEM services, Xamtac Consulting is a great option. We have been in business for years and have a track record of success. We offer all kinds of online marketing services, from SEO and PPC to social media marketing and web design. We take pride in their open reporting system and dedication to teamwork, which makes sure that their clients are constantly kept in the loop and actively participating in their marketing initiatives.
If you work with Xamtac Consulting, you might be able to make your business more visible online, get more people to visit your website, and make more money. Use Xamtac Consulting and take your company to the next level. Don't settle for anything less than the best when it comes to your internet marketing initiatives.