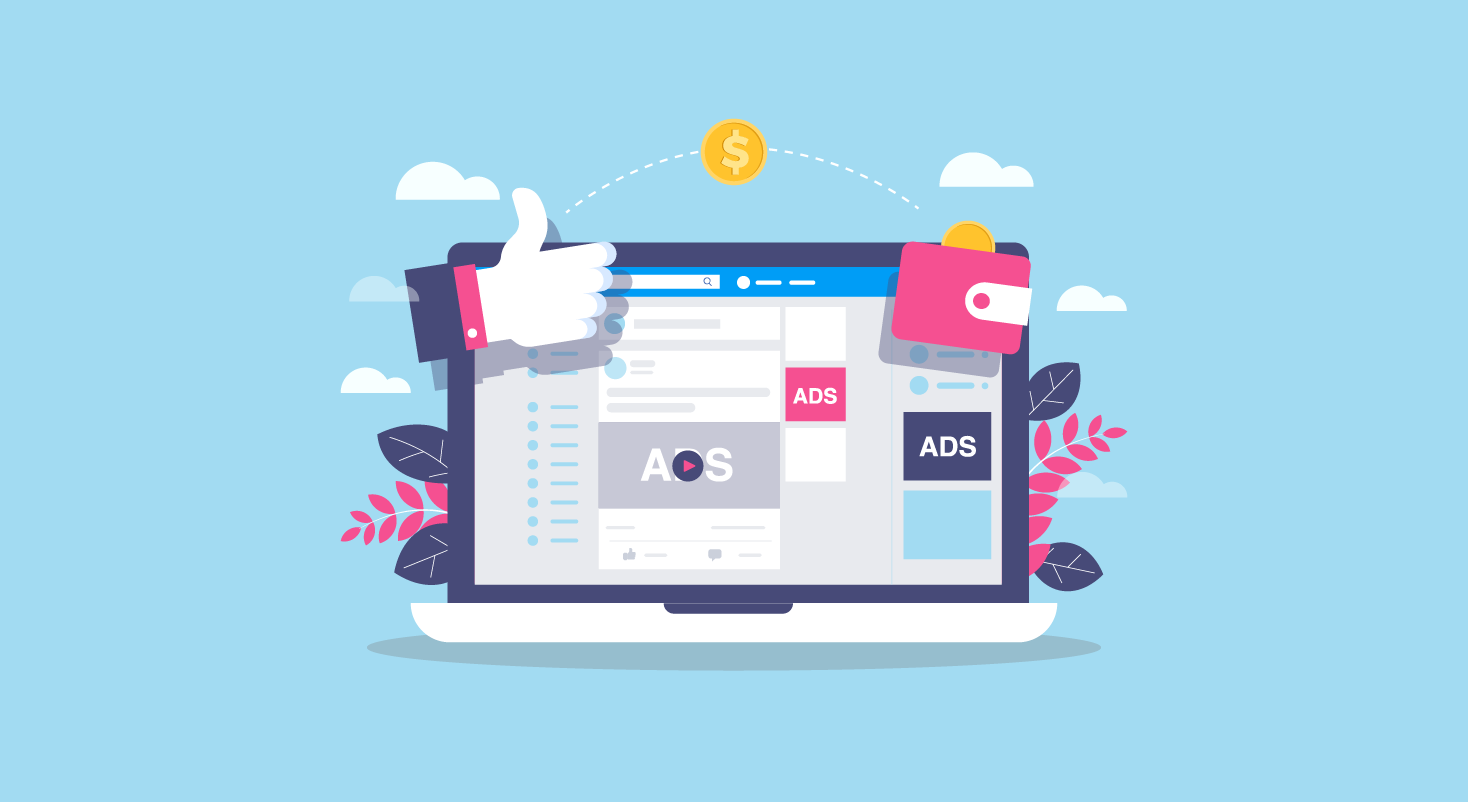 December, ​9, ​2022
8 min read
How to create successful Facebook video ads?
Social media marketing has become important for all businesses these days. Facebook is home to some of the most sought-after digital marketing niches in the world, with about two billion active users every day. Businesses of all sizes utilize Facebook to communicate with consumers, from Disney, Home Depot, and Walmart to your local flower shop or hardware store.
Facebook's popularity is not, however, without downsides. Although there is an audience on Facebook, you must compete with rival advertisements, user-generated content, and games to capture the attention of clients.
Consequently, it is crucial to produce an interesting Facebook video advertisement. Creating a successful Facebook ad that reaches your target audience and motivates them to act may seem like a gamble, but there are strategies you can employ.
Want to learn how to make effective Facebook video ads? Read on for more information.
Is Facebook Advertising Worth It?
Facebook is the most popular social media marketing platform worldwide. With nearly three billion monthly users, it provides a fertile field for all types of digital marketing campaigns.
But is it effective to target consumers with Facebook video advertising?
Regardless of where an advertisement appears, its performance may rely on a number of things; nonetheless, Facebook advertisements often provide results.
However, it might be difficult to determine the efficacy of Facebook advertisements for specific businesses. However, the existing social media marketing data indicates that Facebook is an excellent platform for advertisers seeking to expose their products to consumers.
Studies indicate that Facebook ads:
According to The Drum, more than fifty percent of buyers consider Facebook advertisements before making a purchase. This holds true for both in-person and online purchases.
People use social media for a variety of purposes, including cat memes, fresh updates, and keeping in touch with family and friends. However, around 66% of them use it to research businesses, products, and services.
Due to the platform's capacity to precisely target audiences, businesses may experience a reduction in the cost of acquiring new customers. Occasionally, businesses can save over 70%.
Considering the number of active users on the site, their interest in and inclination to be persuaded by Facebook advertisements, and the relatively inexpensive choice it provides, it is easy to comprehend why so many businesses choose Facebook video advertising.
Why use video advertisements?
The advertising choices on Facebook extend beyond video adverts. There are also static text and image advertisements, which are cheaper and simpler to develop.
Then why is video marketing worthwhile?
Facebook video advertising provides a number of remarkable benefits that other techniques cannot match, such as:
They are popular—Sprout Social believes that around 8 billion Facebook videos are viewed daily. According to 5 Per Single Grain, not only are users watching movies, but they are also sharing them at a rate that has climbed by about 360% over the past few years.
Comparing Facebook to other social media marketing platforms such as YouTube and Instagram, it is possible to achieve a greater social media engagement rate.
They allow you to tell a story - Video advertising provides more opportunities to convey a story about your product or service in less time. In comparison to text and image advertising, you have more flexibility for branding and customer outreach.
Tips for Creating Efficient Facebook Video Ads.
Facebook videos can be an effective marketing tool, but implementing them into your strategy demands prudence, precision, logic, and, of course, imagination. It is important to analyze the relevance of the ad. Aiming for a score that is either average or above average in each of the following three ad ranking categories will allow you to get your video advertisements in front of as many potential buyers in your audience selection as is humanly possible:
Rank according to quality
Engagement rate ranking
Positioning based on the conversion rate
While the creation of celebrity-powered video advertisements surely takes some magic, the procedure often adheres to a set of criteria that define the outcome. Consider a few important factors that serve as criteria for a successful Facebook video advertisement.
1.Make Your Video Vertical - Almost all Facebook users (98%) access the site via mobile devices. 7 This means that the majority of people who view your Facebook ad will do it on a vertically oriented screen, as this is how most people use their smartphones.
Your video advertisement must be formatted for square or vertical playback (in other words, your videos should be optimised for mobile).
Choosing a square video not only increases your viewers' visibility, but also allows you to fill a larger portion of the screen, maximising your advertising efforts.

2.Content Matters- Any successful Facebook or non-Facebook ad requires captivating, original content that attracts the consumer's attention and makes them feel as if they cannot live without your products or services. You want your film to ultimately move viewers' hearts.

You should make sure that your video advertisement:
It tells a story - In the best tales, the protagonist must face enormous obstacles in order to achieve his objectives. The same is true with excellent video advertisements. Use narrative in your advertisement in order to show how your product or service may make the consumer's life better.
Start strong - You only have a few seconds to persuade your Facebook audience to watch your advertisement all the way through, so be sure you're grabbing their attention as soon as possible. The initial few seconds are crucial for keeping interest.
Extols the benefits of your brand - If there's ever a profession where self-promotion is appropriate, it's in advertising. You have the chance to highlight the distinctive qualities of your product or service in your video advertisement. Be confident and don't be shy.

It also contains a call to action- Giving information about your company and telling a story are insufficient. You need to motivate them to take the next step with calls to action, such as Shop Now, Contact Us, Download Here, and so on, if you want your marketing campaign to turn viewers into buyers.

3. Keep It Brief- Consumers aren't willing to spend a lot of time with your advertisement due to their hectic schedules and a culture that has shrunk their attention spans to the shortest possible durations.
The hook rate is what? A video ad will perform better if it can capture the interest of the viewer within the first few seconds. Even though Facebook allows you to upload ads up to 10 minutes long, the most effective Facebook video ads are succinct and to the point. In fact, the site itself advises keeping video adverts to a limit of 15 seconds.

4. Know Your Options in
The flexibility you have over where and how your advertisement is displayed is one of Facebook advertising's most alluring features. According to Facebook, you may run your Facebook ad campaign anywhere on the Facebook platform. Here are your choices:
In-stream - Only a small part of the overall number of videos users watch on Facebook are advertisements. In-stream advertisements are a great approach to attract viewers because they appear within other videos.

Feed: If you choose for your advertisement to display in the platform's news feed, users will interact with it as they scroll (since it appears naturally "in the flow").

Stories - The Stories function allows you to play your advertisement. On both pages, stories start at the top of the page.

5 Take into account muting
When advertising on Facebook, getting your ad visible isn't the only obstacle you'll have to overcome. Additionally, keep in mind that there's a decent potential that your video will be muted.

The majority of Facebook videos play automatically, starting as soon as they appear on the user's screen. This is wonderful news for marketers because it eliminates the need to focus so much on persuading customers to manually play your advertisement.
However, there is a drawback, and that is the fact that Facebook also lets users pre-mute auto-play videos. Marketers must therefore exert twice as much effort to pique consumers' interest.
The Power Behind Engaging Facebook Video Ads That Convert
Facebook advertising provides businesses with a fun and potentially profitable method to connect with customers. But creating video content that engages viewers and delivers results is not an easy task. Social media marketing can help with that. Our social media marketing company is at the forefront of the digital advertising industry, fusing our knowledge with the newest tools to produce individualized, successful marketing programs.
Our internet marketing agency will assist you in expanding your customer base and enhancing your brand identification by providing Facebook video Ad plans that are tailored to your particular requirements as well as the best technologies for tracking, analyzing, and optimizing your campaign.
Trying to find a social media marketing partner to help your Facebook video advertisements succeed? You have it already.